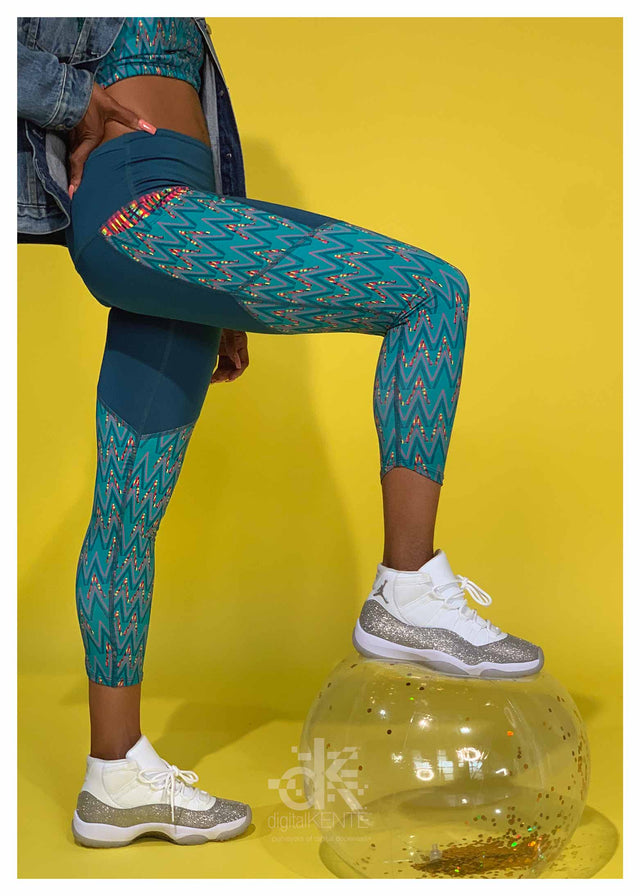 STRONG, DURABLE & FASHIONABLE
NEW DESIGN! Move freely in our digitalKENTE High-Performance High-Rise Leggings. These leggings are created for women with fierce curves to take on any task in style and comfort while keeping their personal items nearby. The new legging design includes two side pockets and a large back waist zipper pocket that will fit any size phone. Work hard & play hard, the sweat-wicking recycled poly-spandex solid fabric is intentionally placed in all the right places. This legging is functional yet chic, built with reinforced stitching, and cropped just above the ankle for the ankle crop, or wraps around the foot in the full-length style to keep you cool during your outdoor run or indoor hot yoga class with a sleek scalloped edge for an extra feminine touch.
Pre-Order Now! in size XS–XL Plus Size 2XL–3XL 

Delivery by late summer 2023.

Available in our Kubanival Zig Zag motif

HIGH-RISE waistband, tucks in the tummy, flattens the belly

Available in Lengths: Crop, Full Length, and Tall

Fabric: 78% polyester, 18% hi-clo sport lycra

Four-way compressive stretch for flexibility and support

Dry Cleaning is suitable, but use organic solvents other than water

Machine wash cold, delicate cycle, then hang-to-dry preferred

SIDE Pockets on the Left and Right sides, angled and large

BACK Pocket with zipper closure, long and roomy!

Made in America
About our #KubanivalTropikal print:
Our NEW KubaNival Tropikal print is a celebration of Caribbean carnival culture! We were inspired by all the juicy colors and textures of the Caribbean islands, their history of enslaved Africans, madras prints, and tropical fruits. Discover hints of Kuba textile motifs layered with bright madras-inspired plaids in this zig-zag motif. Kuba textiles originate from the Democratic Republic of Congo, one of many areas where Africans were taken as slaves to work the sugar cane fields in the Caribbean islands. The triangular motifs of Kuba textiles are known to be extremely elaborate and complex. Raffia cloth is transformed by women to create unique designs for their ceremonial events and elite royalty. Feel regal in this richly colorful, intricate print design!