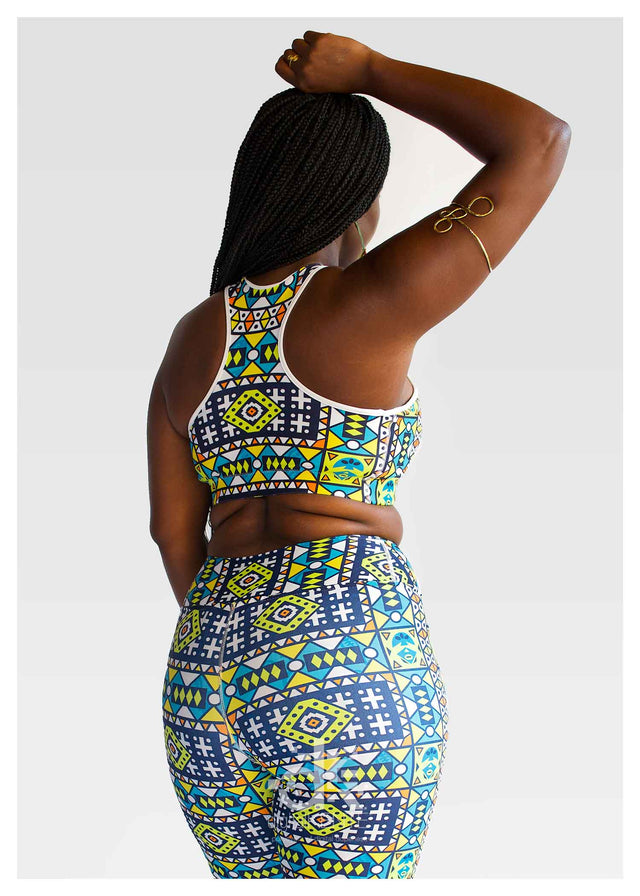 STYLISH SUPPORT, UNMATCHED COMFORT
Our poly-spandex yoga bras will never lose their stretch and provide the support and comfort you need in a one-of-a-kind printed design. They are made from moisture-wicking fabric that stays dry during low and medium-intensity workouts. The bra has support material in the shoulder straps, double layer front, and a wide elastic band to ensure constant support. Sweat all you want, the poly-spandex fiber and unique surface design won't show how hard you worked!
Available in size XS–XL Plus Size 2XL
Scoop neckline and racerback
Fabric: 82% polyester, 18% spandex
Four-way stretch for flexibility and comfort
Best for A–D cups
Machine wash cold, delicate cycle, and Hang-to-Dry preferred
Made in America

This product is made to order. Please allow up to 2 weeks for production and shipping times. We appreciate your patronage of this woman-owned small business!

Model is wearing a Large Yoga Bra, and her US bra size is 36D
About our #BahiaBeach print:
Our NEW Bahia Beach print is a celebration of Afro-Brasilian carnival culture! The print structure is inspired by samakaka fabric which originates from Angola from the Muila tribe in southern Africa. We pay homage to Ilê Aiyê, the historic carnival block from Salvador, Bahia, Brasil which you can see in the geometric shape clusters that resemble their tribal mask brand mark. The bright colors in this yoga legging print are a nod to the Brasil flag, the beautiful turquoise beach water, and the electric sounds of samba music. Move boldly while wearing this Afro-brasilian print!